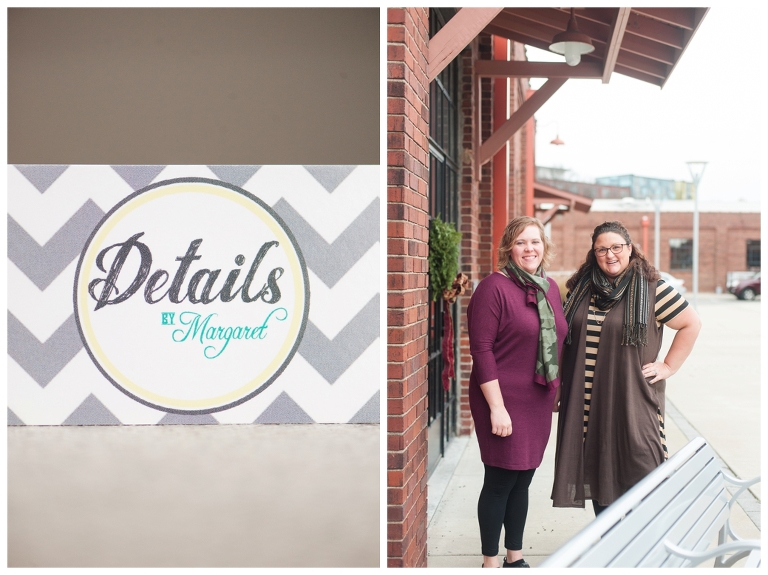 Details by Margaret is a wedding coordinating company based in Nashville. I got the pleasure of working with them on Jared & Heather's wedding last year. It was a gorgeous and very smooth wedding. They also did the flowers and I can honestly say that Heather's bouquet is one of my favorite that I have ever seen. Of course, we were all very busy during the wedding so I didn't really get to talk with them much but I met up with them in Nashville last month to get to know them a bit and ask them some questions about their business so I could share it with you all.
First let me say, Margaret and Mary Jo are so down to earth and easy to talk to. We met up on a cold afternoon and had hot chocolate at a local place in Nashville. It's always great to talk with other wedding professionals and share your stories.
When I asked Margaret about how she got started she said she grew up in a family that likes to entertain and after her own wedding, several friends kept asking her to do their wedding. It was just her for the first year. She then hired someone part-time for a bit and then the team grew over 11 years. Mary Jo joined the team 7 years ago.
I like to ask who their favorite client of the year was. I have found it helps you to know more about their business and who they work the best with. They had a lot of trouble narrowing it down because they said they get so lucky with their brides and have so many awesome ones. But if they had to narrow it down they would say Elyse.
Elyse knew what she wanted yet still put trust in them to make the right decisions and stick to her budget and make her vision come together. She also was easy to help prioritize what she wanted in her day. So when it was coming to her budget they knew what was important and could put her money there and save in other places. She was fun! Had a harpist that played Taylor Swift for the cocktail hour. She knew what she wanted and where to let go. Her wedding was at the beautiful Meadow Hill Farms, in Columbia TN.
If you are interested in their services the deposit is due the day you want to book. Everything else isn't due til two weeks before the wedding. If you want to book you should try to get in touch with them at least 9 months in advance. For April or October dates, they tend to book nine to twelve months out
They offer three different packages. "Day of" where you do all your own vendors and they gather everything you have done and put together. They work on your timeline and coordination. Coordinate your wedding day and work through email communication leading up to the wedding. Next is partial coverage which covers everything the day of, they refer vendors, you get vendor discounts, they set up meetings with vendors and bring it all together for you the day of the wedding. Or Full service- where they do all that is included in other packages and will go to meetings with you or for you if you need them to.
Brides like that they are easy to get in touch with. They don't leave you hanging. Want you to feel like you are their only bride. They will do floral designs for an extra fee or in the packages they do for you. Margaret does floral. And as I mentioned above, the florals are amazing! This girl knows what she's doing.
They help you customize. You tell them vision and budget. They won't suggest things outside your budget. They find the budget important and can help you stay in your budget with discounts from vendors. They are relationship people. And I could tell this just from our short meeting for hot chocolate. They are invested in what they do and truly seem to care for their clients. They even mentioned several brides that they still keep up with and have stayed in contact with.
Of course, the business is growing and they have plans for the future. Margaret does digital marketing and corporate events. In the future, they plan for Mary Jo to take even more leadership on the wedding side while Margaret pursues some of the other parts of the business but will still be playing a part in weddings. Margaret will of course still do floral and help on the wedding day.
Check out the flowers below from the Petry wedding that they coordinated! Gorgeous! Click here to go to their site.