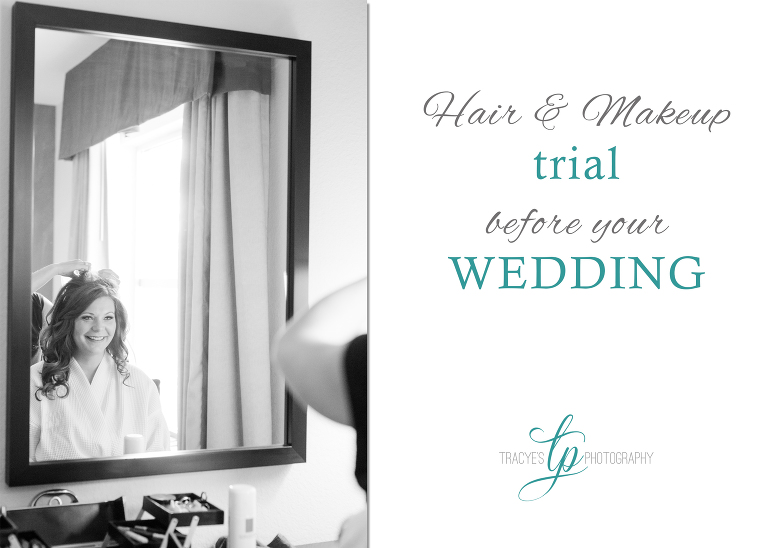 Every bride deserves to feel absolutely gorgeous on her wedding day but everyone has a different idea of what looks best. So before your wedding it's always a great idea to do a trial run for your hair and makeup. It's not always easy for your hair and makeup artist to read your mind and know exactly what you feel like it the best look for you so if you do a trial run it gives you a good chance to try different things out and to have more time to communicate on what you do and don't like. Ive had several brides use their bridal portrait as their trial run to see how they feel about certain hair styles and makeup applications.
Remember that not all hairstyles work for different hair types so you can bring several ideas to your hair stylist and discuss which would be best for you. If you aren't doing it for your bridal portrait make sure to take lots of pictures so you can look back and see how it looked. Also keep in mind the neckline of your dress. If you are wearing a veil don't forget to bring it so your stylist can show you the best ways to put it in if she won't be there to do it. Bring someone to watch how it is put in and take pictures if your stylist won't be there so that they can help you on the day of your wedding.
A few tips for the wedding day that you may or may not have thought of. Wear a button up shirt so you don't mess up your hair and makeup as you pull a shirt over your head. Make sure you communicate with your stylist on what you do and do not like. Before you put on your dress, use the restroom! It's so much harder to do after.