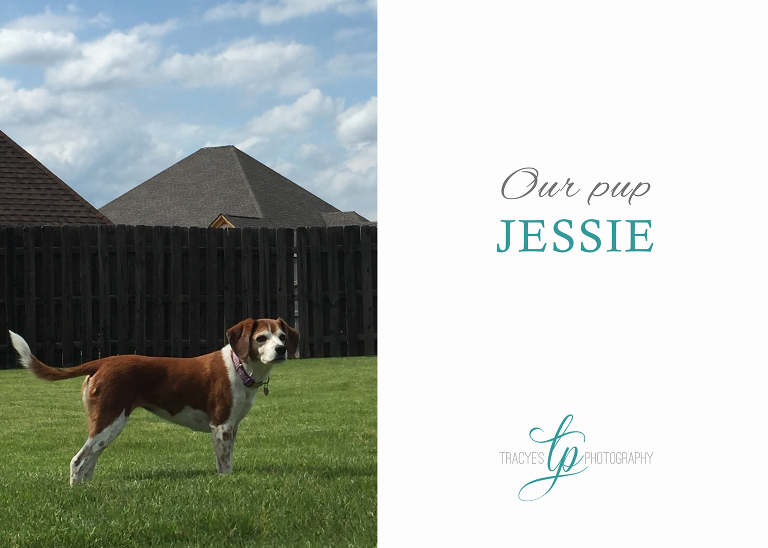 I thought it was about time Jessie got her own post. Jessie just turned 10 years old this summer. Before Adam and I got married I had bought a house and was living alone and decided I needed another "person" in the house to keep me company and maybe even as a little bit of security. I started hunting on petfinder and other sites and falling in love with sweet puppy after puppy. I've grown up with boxers and loving them over all breeds but I decided I wanted something a bit smaller to be in my new house and I have always loved beagles giant eyes and ears.
Just my luck one morning I heard on the radio a humane society about an hour from Jackson that had two litters of beagle mix puppies. I went online to find the ad and there were only a few left. Two different beagle mix mothers had come into the shelter pregnant and they were advertising lots and since it was new puppies everyone was coming in to get one. We drove as fast as we could (a little too fast since I got a ticket) and when Adam and I walked in there were two puppies left and the one sitting looking at me was the one I had decided from the pictures that I just had to have. I grabbed her up just as another family walked in behind us. We had our Jessie.
Jessie has proven to be just as odd as the rest of the family. She is allergic to the rubber in some toys. It makes her already large lips swell up. So no plastic bowls or toys for her. She also used to get so excited when Adam came to visit that she would throw up for 24 hours. It was pretty scary once or twice but we found pills to keep her stomach calm.
She's a smart dog. When she was small we taught her to ring a dog doorbell that was on the ground outside the door to let us know when she was ready to come in. It's crazy to hear a doorbell and open the door to a dog sitting there looking at you. She was our first baby so she hasn't taken to loud tiny humans showing up in her space and taking up all of her mamas time. But now after 6 years, she finally lets the kids pet her. And they are so excited.