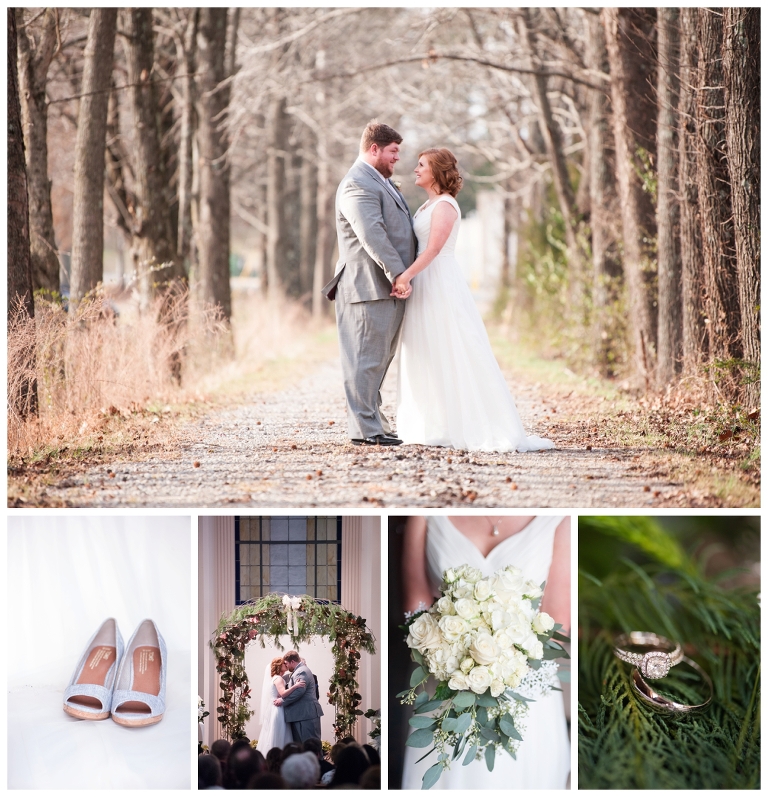 Logan & Julia had a gorgeous winter wedding. As we stood in the getting ready room and Julia's mom zipped up her dress in front of the window I just couldn't believe how stunning she was. She looked like someone out of a magazine. My assistant and I commented to each other about how you can't buy the gorgeous color of her hair, it is only found naturally. As we went outside to do our portraits it was a bit chilly but still such amazing weather for a December day. The wind was cold but the sun was warm and bright. Julia and Logan's friends and family were very supportive and running here and there to get last minute things done for them. They have a very large, small-town support system. Julia's cheerleaders even came early in their uniforms to get a picture with her. It was such a sweet surprise.
I guess in a way her being a cheer coach helped lead Logan and Julia to each other. They had seen each other seen each other around football games for a while before getting to know one another. Julia became the cheer coach and they began hanging out with a group of the same friends and that's how they started dating. Logan used their dog, Zeus, to propose. If you want to see him and more about that look at their engagement session.
It was such a gorgeous winter wedding. They had such great details in their reception. I love the decor for a winter wedding. It's so different from what you would see any other time of the year.
Venue | Huntingdon Church of Christ
Florist | Bill's Flowers, Huntingdon TN
Wedding Planner | Ginger Taylor & Joy Thomason
Cake | Jerry Joyner
Catering | Mark & Tina Milam
Wedding Dress | David's Bridal
Congratulations to Julia & Logan! If you are planning a wedding and looking for a photographer I'd love to hear more about your wedding. Contact me