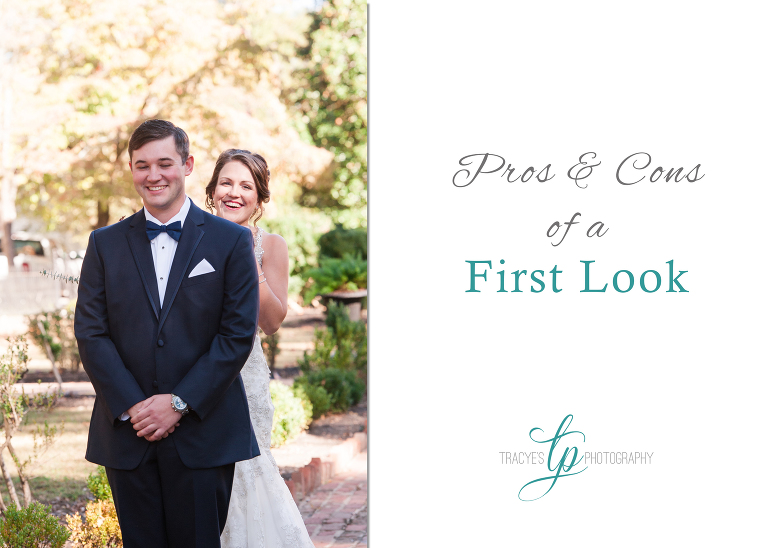 First looks are getting more and more popular but I know that there are still lots of bride and grooms that are trying to decide if it's really what they want. We grew up with the vision of the bride walking down the aisle and that being the very first time he sees her in her wedding dress. I understand the excitement in that and how we have built it up in our minds as "the" moment and I completely understand the appeal and why it might be something you want to do. In my photography I offer whatever you prefer to do. I can see both sides and know that if it's important to you, then you should have that on your big day. But I wanted to take a minute to share my view on why a first look can make the day so much better because I know a lot of times you don't think about these things.
After years of weddings I have found that if you do not see each other you are nervous the whole day leading up to seeing each other. It's exciting but also stressful. You are anxious and your stomach is nervous. When you do walk down the aisle and have your moment, it's special and wonderful, but then you get up the aisle and the service starts. There is no chatting, asking how your morning has been, he doesn't get to tell you how beautiful you look in your dress, and you don't get to tell him all the crazy things that happened that morning. You are there, in front of everyone, and the ceremony progresses. As soon as it's over you walk back down the aisle and you immediately have to rush to start doing your pictures since you did not get any together beforehand. You want to hug each other, your family, your friends and be excited about what just happened but you've got to get the rest of the day rolling. So you rush through pictures with both of you with family and pictures of the two of you because your guests are graciously waiting on you to make an appearance so that they can tell you how beautiful you are and how happy they are for you. This is the part that is the saddest to me. Your guests deserve to get to see you and you of course want to talk to them all. I mean, you invited them because you wanted to see them. But once this day is over, once you are home, once years have passed and you look back on this day, your pictures are what you have to look back at. They are all you have left to remember and do you really want to have rushed and taken a small amount of pictures with the most important person of the day??
Now let's talk about what the day is like if you do see one another before. My favorite thing about having a first look is that you get to spend the whole day with the person that is the whole reason for this special day. You get ready and then we go somewhere, just the two of you and us standing off to the side with our cameras and you get to walk in and have a big exciting moment of seeing each other all dressed up. You get to hug and talk about your morning and the day to come and you get to twirl around for him to see this dress you so carefully chose and he gets to gush over how gorgeous you are. You get to hold hands and smile at each other and we stand out of the way and get photos of all of it. Then the two of you spend the day getting pictures made with your closest friends and family. You get to relax and take pictures of just the two of you where I can capture real emotion and real expressions because we aren't too busy trying to get you to your guests. You get lots more pictures of the two of you together because there is lots of time for it. Lots of time for creativity. Then we go on to the ceremony and you still get an amazing moment of the music playing and the doors opening ( or you walking up if it's outside) and everyone standing and then you standing in front of them and having your ceremony. Then you have your first kiss as a married couple and walk out together and from that point on, you get to talk to your guests, friends, family and just enjoy your day. First looks can be magical too. Just not necessarily in the way we've been told our whole lives that weddings "should" be.
I have had brides, grooms or a parent say "well isn't it bad luck to see the bride before the ceremony?" So I googled it. "Is it bad luck for the groom to see the bride before the ceremony?" Do you know what I found? Every answer I found says the tradition goes back to arranged marriages when the groom was not allowed to see the brides face AT ALL before the wedding. I mean, never ever met her. I had no clue that that was where that tradition came from!! Isn't that wild?
So when you are trying to decide, keep all these things in mind.